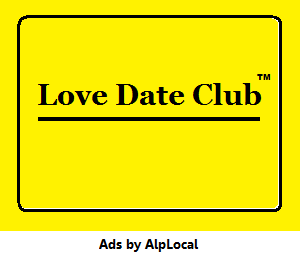 Welcome to the Love Date Club, a Five Star Dating Club for those who want the best of dates. We believe everyone can get a date that brings the best out of living.
As a dating club, our goal is to promote a caring, respectful and comfortable way for people to meet local men and women and enjoy the benefits of fun and excitement that comes with a true Five Star respectful dating experience. Remember, finding love is a marathon, not a sprint!
Additionally, you can contact us for time-tested ways to improve your love life and enjoy the best your relationship has to offer.
The Best Five Star Dating … with benefits!
• Seven Dating Tips

• Dating Safety Tips

• Meet New Friends

• Meet Local Singles

• Local Single Men

• Local Single Women

• Meet Beautiful Women

• Meet Single Seniors

• Networking Opportunities

• New Business Friendships

• Join the Love Date Club!
Our social interactions promotes a comfortable lifestyle for real serious individuals. Want a date? Join us today!
---
Find Your Favorite
FIVE STAR LOVE DATE CLUB
Dating At It's Best!
On Mobile … Fast!

---


This Premium

Space

Now Available
LoveDateClub.com