By: ALPHABET LOCAL STAFF

Posted: November 1, 2016
November is National Gratitude Month. This year we're reminded of the true value of gratitude in our society. All around us, we see acts of gratitude. From the mothers who share motivational messages with their children as they faced the challenges of daily school life to the fathers who keep going despite the lingering pains related to the challenges of the workplace.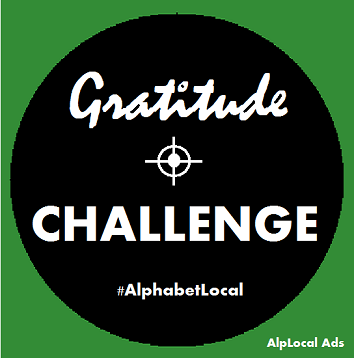 Yes, children face the daily struggles related to learning new and exciting things shaping their future and yet they keep smiling and sharing the joys of the day. Sometimes it can be a real challenge to get through the day without complaining. Facing these challenges can be very difficult but the joys are amplified when we're shown gratitude!
As challenging as life can be and as struggles sometimes mount, we're reminded of the long history of gratitude we've inherited. As our mothers and fathers gave us a hug and said it's "going to be alright" and we smiled … showing our gratitude. Or our employer assured us we're doing a good job … simple but effective acts of gratitude.
Now we have an opportunity to share the love of gratitude with our community, friends, relatives, coworkers, veterans, and neighbors. This month we all can put special emphasis on the need for gratitude by accepting the challenge!
Reasons for accepting this challenge has been proven time and again. The overwhelming benefits include better health and strength. Our spirit comes alive when the positive energy associated with gratitude is on display. Whether it's the smile on the face of the store clerk when we say thank you or opening the door for a senior, it does us good to see gratitude really works.
Gratitude works because it's inherent in us to want it. Gratitude is the quality of being thankful and a readiness to show appreciation for and to return the kindness. We all want this shown to us. Therefore, we want to show this to others.
Will you accept the Gratitude Challenge? Can you find a way to show your gratitude to your community? We're confident, as the holidays approach, each and every one of us can and will find ways to show we accept this Gratitude Challenge.
To show our appreciation for the many acts of gratitude we have received, we're going to give a FREE subscription to one hundred local businesses (100) to our AlpLocal Mobile Ads. This will be on a first come, first served basis. This "Forever Subscription" will provide free online advertising for all local or national businesses. Our way of saying, "Thanks for the all of the kindness shown to us".
We encourage you to get yours today. To Claim Your Free Space and get a "Forever Subscription" to Alphabet Local mobile advertising, simply go here.
As you can see, November is National Gratitude Challenge Month and we're all in. You can share your thoughts, comments and experiences using the hashtag #AlphabetLocal to show your gratitude for your local community. Share this link with your community of friends and ask them if they will accept the Gratitude Challenge!

AlphabetLocal.com