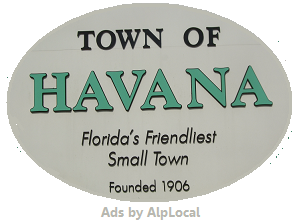 HAVANA FLORIDA
Gadsden County • Havana Local
"Florida's Friendliest Small Town"
Incorporated on December 5, 1906
Havana is located in northeastern Gadsden County. U.S. Route 27 passes through the center of town, which is 25 miles south of Bainbridge, Georgia, leading southeast 16 miles from Havana to the center of Tallahassee. Florida State Road 12 intersects US 27 in Havana; it leads west 12 miles to Quincy, the Gadsden County seat.
Havana, named after Havana, Cuba, is in reality a friendly small town. From the time you arrive in Havana you will find the people to be hospitable and welcoming. Havana is "Florida's Friendliest Small Town" not by definition but in reality and practice.
From the moment you arrive in Havana, you know you have found a new "Home for Business". From town officials, local law enforcement, business owners, local residents, and visitors, you are greeted with the "Welcome to Havana" smile, and a "You're Home Now", welcome mat.
It's like you've been given the "Key to the City" respect by everyone in town. Havana's town residents and officials are committed to provide whatever services you need to help you succeed in business here. Questions? Just ask – if it can be done – it will be done, in Havana!
The Town of Havana pays tribute to the many men and women who paid the ultimate sacrifice to keep America safe with the Veteran Memorial next to the Library. To all who gave so much, we say, "Thanks for your love of country, your service and your sacrifice!
When you visit any of the many antique shops, you'll be impressed by the many antiques from times gone by. As you pass through along U.S. Route 27, you will notice the large murals on the buildings depicting the history of the community.
Ready for locally prepared meals? Visit any of the local restaurants around town. You'll not only be greeted with a smile and a greeting but great food prepared by local chefs.
Havana and Gadsden County, embraces equality, cultural diversity, inclusion, equity and is an historic business-friendly community. Havana is rolling out the "Welcome to Havana" welcome mat to new entrepreneurs, new residents and new value-added businesses.
ALMA UP!
Branding. Entrepreneurs. Startups.
Customized For Business!
ALPHABET INTERNATIONAL
Online – Mobile – Security – Tech
Real. Targeted. Local. Ads.
ALPHABET RESOURCES
Online – Mobile – Security – Tech
Real. Targeted. Ads.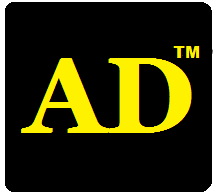 Online – Mobile – Security – Tech
Real. Targeted. Ads.
---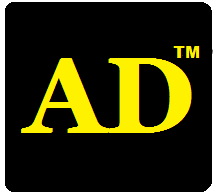 Local Ads For Any Business!


---
ALPHABET MOBILE ADS
AlphabetLocal.com – #AlphabetLocal