JUNETEENTH
Emancipation Day Celebrations!
Freedom Day • Jubilee Day • Liberation Day
June 19, 1865
Juneteenth is an annual holiday celebrating the emancipation of those who had been enslaved in the United States. Originating in Texas, it is now celebrated annually on the 19th of June throughout the United States, with varying official recognition.
Specifically, it commemorates Union army general Gordon Granger announcing federal orders in Galveston, Texas, on June 19, 1865, proclaiming that all slaves in Texas were free.
When was slavery abolished?
President Abraham Lincoln's Emancipation Proclamation had officially outlawed slavery in Texas and the other states in rebellion against the Union, almost two and a half years earlier.
Texas being the most remote of the slave states had a low presence of Union troops after the American Civil War had ended, thus legal enforcement there had been slow and inconsistent, at best, before Granger's announcement.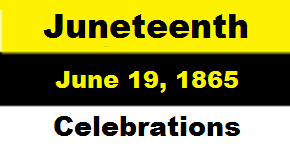 Although Juneteenth is commonly thought of as celebrating the end of slavery in the United States, it was still legal and practiced in two Union border states (Delaware and Kentucky) until December 6, 1865, when ratification of the Thirteenth Amendment to the Constitution abolished non-penal slavery nationwide.
More isolated geographically, planters and other slaveholders had migrated into Texas from eastern states to escape the fighting, and many brought enslaved people with them, increasing by the thousands the enslaved population in the state at the end of the Civil War.
Life of enslaved people in Texas
Although most enslaved people lived in rural areas, more than 1,000 resided in both Galveston and Houston by 1860, with several hundred in other large towns.
Most enslaved people worked as house servants or on farms on the edges of towns, but others served as cooks and waiters in hotels, as teamsters or boatmen, or as coachmen and skilled artisans, such as blacksmiths, carpenters, and barbers.
Plantation slaves generally lived in one or two-room log cabins. Most field hands received two sets of clothing twice each year, with a hat and coat for winter. Meals often consisted of bread, molasses, sweet potatoes, hominy, and beef, chicken, and pork.
Slaves often lived similarly to the whites in Texas, especially those new to the territory and just getting started. The whites, however, could hope to improve their lives with their own hard work, while the slaves could have no such hope or expectation as, of course, their work belonged by law to their owners and not to them.
By 1865, there were an estimated 250,000 enslaved people in Texas with little or no hope for a better life.
What is General Order No. 3?
The news of General Robert E. Lee's surrender on April 9, 1865, reached Texas later in the month. The western Army of the Trans-Mississippi did not surrender until June 2.
On June 18, Union Army General Gordon Granger arrived at Galveston Island with 2,000 federal troops to occupy Texas on behalf of the federal government. The following day, standing on the balcony of Galveston's Ashton Villa, Granger read aloud the contents of "General Order No. 3", announcing the total emancipation of those held as slaves: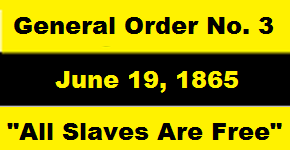 "The people of Texas are informed that, in accordance with a proclamation from the Executive of the United States, all slaves are free. This involves an absolute equality of personal rights and rights of property between former masters and slaves, and the connection heretofore existing between them becomes that between employer and hired labor. The freedmen are advised to remain quietly at their present homes and work for wages. They are informed that they will not be allowed to collect at military posts and that they will not be supported in idleness either there or elsewhere."
Texas Takes Action
Although this event is popularly thought of as "the end of slavery", the Emancipation Proclamation did not apply to those enslaved in Union-held territory, who would not be freed until a proclamation several months later, on December 18, 1865, that the Thirteenth Amendment had been ratified on December 6, 1865. The freedom of formerly enslaved people in Texas was given legal status in a series of Texas Supreme Court decisions between 1868 and 1874.
Formerly enslaved people in Galveston celebrated after the announcement. The following year, freedmen in Texas organized the first of what became the annual celebration of "Jubilee Day" on June 19 (Juneteenth).
Descendants need help to be "free"?
Descendants of those former enslaved people have waited 155 years for the promises of "freedom" and "absolute equality of personal rights and rights of property" to be fulfilled without systemic racism, harassment and denial of just and fair treatment under law in housing, jobs, employment, education, and finances.
A national holiday will bring support from and awareness to the general public about these issues in an effort to heal the centuries old "wounds".
These descendants are a part of society, having earned the rights due them. Now society can have an "all hands on deck" approach to finding solutions to the barriers that prevents all citizens from having the "freedom" and "absolute equality of personal rights and rights of property".
The goal: Equal opportunity in all areas of life along with unbiased treatment as citizens who worked to build this great nation.
What about a national holiday?
The 21st century has brought renewed calls to make Juneteenth a national holiday, joining several states, including Texas, who recognizes the importance of "mending fences" with the descendants of the more than 4 million enslaved people who were bought and sold, humiliated, harassed, tortured, murdered, as well as sexually assaulted, and worked without monetary compensation for over two hundred years.
The US National Archives said on Thursday, June 18, 2020, that the original handwritten decree is believed to have been recently discovered, after a researcher was tasked with unearthing it due to heightened interested in the holiday.
"The people of Texas are informed that, in accordance with a proclamation from the Executive of the United States, 'all slaves are free,' " the military order reads.
"This involves an absolute equality of personal rights and rights of property between former masters and slaves, and the connection heretofore existing between them becomes that between employer and hired labor."
The elaborately written note was found in a book of formal orders in Washington DC.
"I think it's terrific. I think the timing is just amazing," David Ferriero, the head librarian of the Archives told the Washington Post.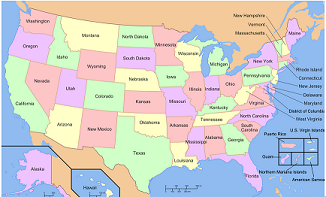 Cities and states take action!
In the 19th century, Southern states, faced with the prospect of having to give up slavery, formed the Confederacy and broke away from the United States, leading to the 1861-1865 Civil War that resulted in the death of over 600,000 soldiers. Mississippi declared its secession from the Union on March 23, 1861.
State of Mississippi
Governor Tate Reeves of Mississippi, a former slave state, part of the Confederate States of America that went to war with the United States to preserve the institution of slavery, tweeted (about removing the Confederate flag from the state flag) on Saturday, June 27, 2020, that "The legislature has been deadlocked for days as it considers a new state flag. The argument over the 1894 flag has become as divisive as the flag itself and it's time to end it. If they send me a bill this weekend, I will sign it."
Governor Reeves said the state (a state that help form the Confederacy on February 4, 1861) should find a way to come together, and heal its "wounds". The "wounds" and scars of slavery inflicted by abusive slaveholders, slave patrols and local police in every community of color runs very deep with the blood of slaves and their descendants.
Beginning in 1822, slaves in Mississippi were protected by law from cruel and unusual punishment by their owners. The Southern slave codes made the willful killing of a slave illegal in most cases. For example, the 1860 Mississippi case of George W. Oliver v. The State charged the defendant with murdering his own slave.
White supremacists in the Mississippi Legislature set the state flag design in 1894 during backlash to the political power that African Americans gained after the Civil War.
Democratic Sen. David Jordan, who is African American, has pushed for decades to change the flag. He smiled broadly after Saturday's vote and said, "This is such a metamorphosis."
"There are economic issues. There are issues involving football or whatever," Republican Lt. Gov. Delbert Hosemann said Saturday. "But this vote came from the heart. That makes it so much more important."
"We should not be under any illusion that a vote in the Capitol is the end of what must be done … the job before us to bring the state together and I intend to work night and day to do it," Reeves said in his tweet. "We must find a way to come together. To heal our wounds, to forgive, to resolve that a page has been turned, to trust each other. With God's help, we can" said Governor Tate Reeves of Mississippi.
Today, Saturday, June 27, 2020, in the state of Mississippi, African Americans constitute approximately 38 percent of the state's population. Most have ancestors who were enslaved. Therefore, after the removal of the divisive Confederate flag, with red, white and blue stripes and 13 white stars with the Confederate battle emblem in the corner, will serve as a positive message to the world that a true effort at the state level will result in healing the wounds.
Mississippi Takes "Healing" Action
Republican governor Tate Reeves signed a historic bill withdrawing the state's 126-year-old flag on Tuesday, June 30, 2020.
"This is not a political moment to me but a solemn occasion to lead our Mississippi family to come together, to be reconciled, and to move on," Reeves said in a statement. "We are a resilient people defined by our hospitality. We are a people of great faith. Now, more than ever, we must lean on that faith, put our divisions behind us, and unite for a greater good."
Democratic Mississippi 57th District state representative Edward Blackmon Jr (72), who is Black, argued that the state flag, "ought to be something that we all feel a sense of pride that when we see it, we know that that's about us. Not just some of us."
Reeves said on Tuesday: "The people of Mississippi, Black and White, and young and old, can be proud of a banner that puts our faith front and center. We can unite under it. We can move forward together."
Juneteenth becoming an official statewide holiday will be a good place to begin the next step in "mending community fences" and the healing process as we "move forward together.".
State of New York
New York Governor Andrew Cuomo signed an order making Juneteenth – also known as Emancipation Day and Freedom Day – a paid holiday for state workers.
Governor Cuomo said he would introduce legislation to make the day a holiday for all New Yorkers by 2021.
State of Virginia
Virginia Governor Ralph Northam also promised to make Juneteenth a holiday by 2021 in the former capitol of the Confederacy which rebelled against the US during the Civil War for the legal right to enslave black people.
State of Pennsylvania
In Pennsylvania, Governor Tom Wolf has also signed an order making Juneteenth a holiday for state workers.
"Freedom for all is not fully realized until every person is truly free. This Juneteenth we have an opportunity to unite against injustice and create lasting change," Governor Wolf said.
New York City
New York City Mayor Bill de Blasio has announced that Juneteenth – the 19 June date which marks the end of US slavery – will become an official holiday. Beginning in 2021 Juneteenth will also be a public school holiday.
What about the federal government?
In Washington, the most senior Republican in the Senate said on Thursday, June 18, 2020 that he would introduce a bill to make Juneteenth (June 19) a federal holiday. Many democratic members of congress (some for over 20 years) have joined this effort to make Juneteenth (June 19) a national federal holiday.
For more information on local Juneteenth celebrations in your area, please feel free to go here or contact us.
---
Alphabet Global Can Help!

Alphabet Global Home Office is committed to positive change by supporting equality, diversity, and inclusion in all areas of life.
Alphabet Local is a solid member of your local business community, a professional service in every way, and an excellent value for its customers.
Alphabet Local will help by providing job training and marketing assistance to local Juneteenth communities and free use of our virtual business resources.
We will also achieve our Juneteenth marketing goals by employing in-person sales calls, real targeted ads, online promotions, business cards with discount offers, free demonstrations for qualified prospects and local sponsorship of Juneteenth events. The guiding force behind all marketing efforts will be professionalism and consistency. You can contact us here to learn more or see our available resources to help.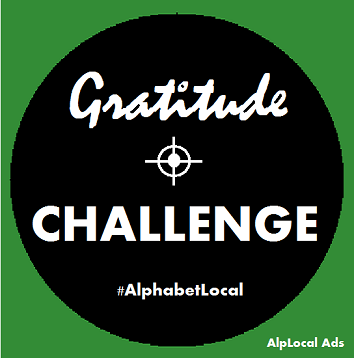 Commitment To Our Communities!
To connect advertisers and consumers, Alphabet Local Pro Team members live and work in most communities we serve. We are moms, dads, sons, daughters, and neighbors who want the best for every local business. This gives us added incentives to make ourselves available to provide quality Five Star customer service with professionalism and consistency as well as quick and on-time service.
As members of the community, through our local Gratitude Challenge programs, we support those who have given so much to build a safe and welcoming community, including our veterans and people of color. Therefore, we support equality, inclusion and diversity … 100%.
We welcome everyone
We have made a commitment to be a champion of change … be accepting and welcoming to everyone including our local communities of color and our veteran community. We will continue to show support for our local communities.
Additionally, our local volunteers are encouraged to help with various community projects. You can contact us for more information.

To introduce our company, we offer discount subscriptions to our mobile ads at various times to help local businesses kickstart their promotions. This gives local businesses a chance to join our signature service famed for connecting with local customers … without draining their advertising budget.
Alphabet Local commitment to customer service and business promotions are now available in over 365 cities and 57 countries to serve you. For more information on available products and services in your area, please feel free to contact us.
To connect with our Pro Team simply click the "Need Help?" tab below.
To your success …

---
Find Your Favorite
FIVE STAR ALPLOCAL PRO TEAM
On Mobile … Fast!

AlphabetLocal.com
Additional Sources: Yahoo.com and Wikipedia.org